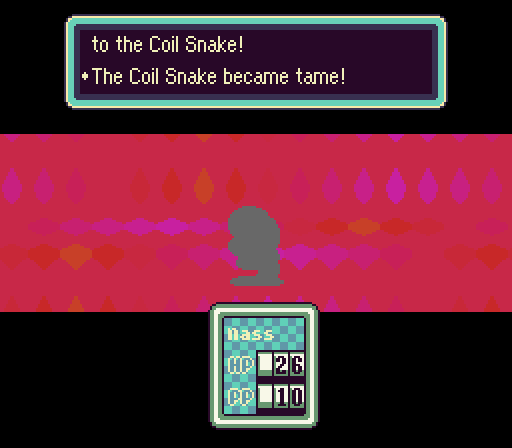 Foes beaten in Earthbound "returned to normal" and "became tame". Their aggressiveness was a consequence of Giygas' invasion. To my ten year-old sensibilities, it seemed sanitized. Other series
implied death
.
In retrospect, though, Earthbound's universe is more sensible. Creatures of the size and sophistication making up the enemy fodder of those games presumably have life and gestation cycles similar to those of contemporary big game animals. If travelers routinely slaughtered scores of them, they'd be driven towards extinction quickly, like the dodo bird or, nearly, the American bison.
In further retrospect, as a kid I tended towards ethnocentrism rather than the ethnomasochism that is
becoming mandatory for white boys
. I always identified with one character and fed him (invariably) all the stat-boosters.
Ragnar
,
Steiner
,
Cecil
(pre-transformation),
Sabin
,
Crono
(and then later Glenn once I realized his backstory),
Ness
. In Warcraft 2 it was always humans (unless I was laddering competitively, in which case
Orcs were a necessary evil
).
Speaking of Glenn, we were first introduced to him as "Frog". These are the names those of us who knew him before he was world-famous call him. The rest of you will know him by another name:
A friend alerted me to the upcoming Japanese release of Dragon Quest 11. Nostalgic mechanics paired with a novel story is a
compelling mix
. It's been
several years since I've played a video game
, but this is one I'll make time for. I'm looking forward to sharing with my son. He's entering life's most blissful age. I'll do my best to protect it until he's 11 or 12. The formation of his fondest memories draw near.
It's a gay Japanese RPG, fine. The protagonist looks androgynous, they usually do. Why expect otherwise? When was the last time a Jap won an international strongman competition or set a notable lift record in anything?
It's my sense that Japanese games are less converged than those originating in the West are. And they're
far more likely to resist convergence in the future
.
East Asians don't suffer from the self-immolating delusions about diversity
that both liberals and conservatives in the West do.