A
Quinnipiac poll
that ran from 10/27-11/1 reported the following:
At the time the poll was taken,
slightly more registered Republicans had voted than registered Democrats
. The poll shows Trump doing marginally better with Republicans than Hillary is doing with Democrats, and it shows Trump leading among independents.
More Republicans than Democrats have voted. More independents say they'll vote for Trump than for Hillary, yet she has a six point lead in early voting?
The only way this adds up is if early voting Republicans (and independents) are especially supportive of Hillary relative to Republican and independent Floridians as a whole.
It's possible, but it seems improbable. Unless we're talking about an army of hundreds of thousands of Erick Eriksons waddling in early, the presumption should be that Republicans who are toying with the idea of crossing party lines to vote for the witch are going to wait until the last minute to turncoat. They're not going to do so weeks in advance when new information keeps coming on a daily basis. The ones who are voting early are the ones who are the ones without a question in their minds as to who they're going to vote for.
On the other hand, there are numerous reports of large numbers of Hispanics among the in-person early voters, so the fix could already be in.
As the time for conjecture wraps up, I'll offer my electoral college prediction, albeit a prediction with far less confidence than those made throughout the primary season: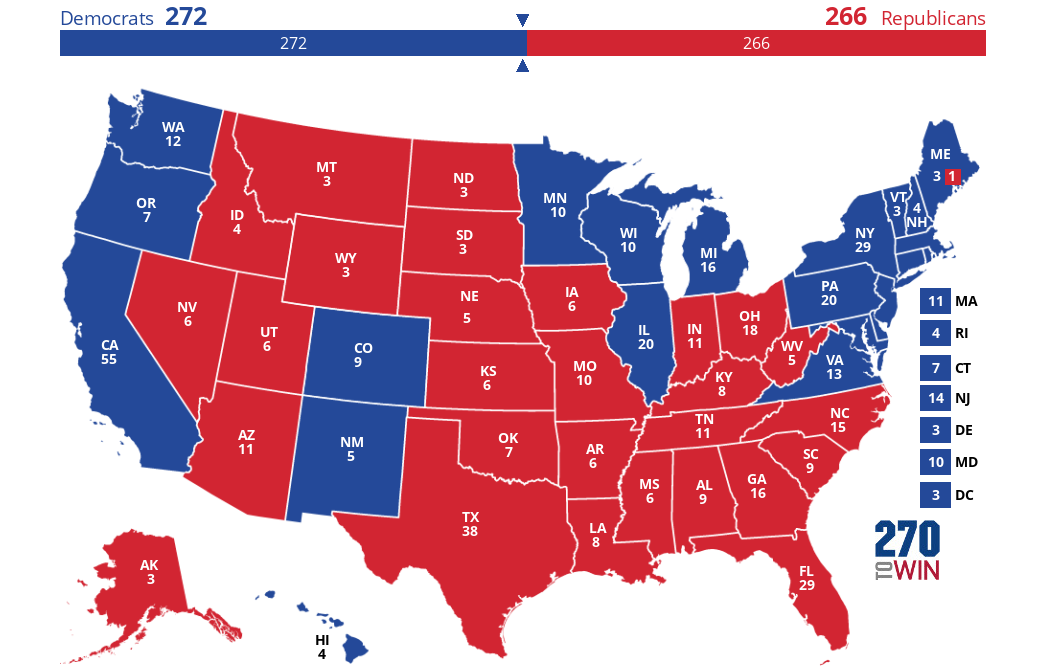 Click the map to create your own at
270toWin.com
Reading the entrails more audaciously still, we see that Pennsylvania will be closer than the polls have indicated over the last couple of months, and credible evidence for voter fraud out of Philadelphia will cast a heavy cloud of skepticism over the results.