++Addition++
See
Tangoman's
arguments for the necessity of an ethno-state
in the comments
.
---
- I use a termite bait station to keep termites from getting into my house because I know their presence will lower my family's quality of life. I support the construction of a border fence to keep illegal immigrants from south of the border out of my country because I know their presence will lower my family's quality of life. As it is not fear but simple prudence that compels me in both of these cases, the terms "termitephobic" and "xenophobic" are both equally inapplicable for describing my behavior.
- Assuming a stable population, even at the most theoretically violent, where martial prowess and an unrelenting focus on pugilistic tactics would put the Spartans to shame, the average person can, at the very maximum, only kill one person over the course of his entire lifetime. This occurred to me when I recently heard
Lew Rockwell
talking about how incredibly unnerving an experience it is for the vast majority of people to be put in a the situation of having to take another person's life, irrespective of the context. To have killed more than one person is to be an extreme historical rarity.
- These shirts are floating around my neck of the woods: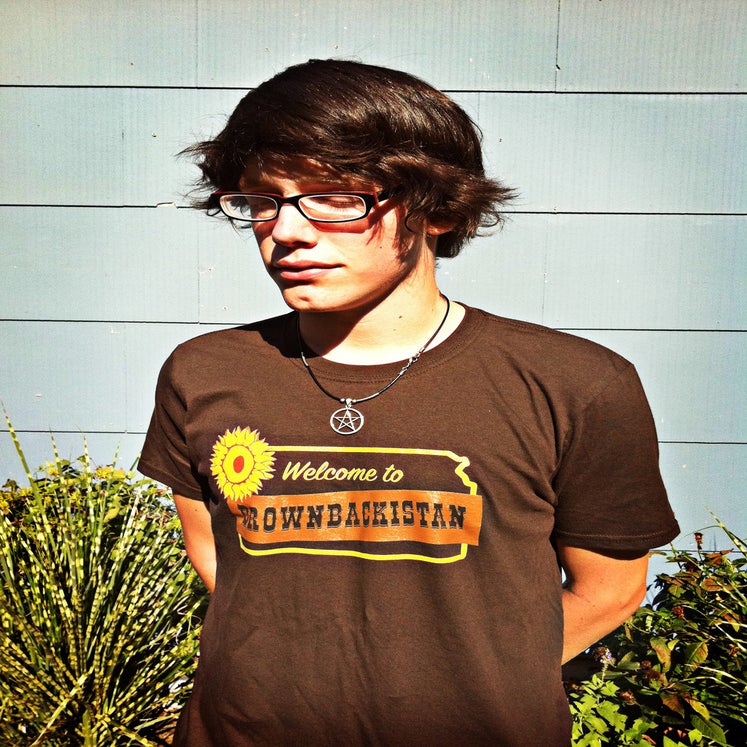 There is some grim satisfaction in watching the same people who superciliously call Kansas "Brownbackistan" now criticize the governor for
resisting the transformation of his state
into something that will genuinely move it in the direction of resembling an actual crapistan.
- Using the image above as a segue, the percentages of self-identified homosexuals who have engaged in heterosexual sex is 34.4% for gay men and 66.1% for lesbians. The percentages of self-identified heterosexuals who have engaged in homosexual sex is 6.1% for men and 5.3% for women.
Some non-exhaustive conjecture on why homosexuals engaging in heterosexual sex is significantly more likely than heterosexuals engaging in homosexual sex is: A relatively tiny pool of potential preferred partners for gays, perceived social pressure to conform to a non-deviant lifestyle, and the existence of more of a sexual spectrum for those exhibiting sexual dysfunction than for those with normal sexual function.
- Answers
to the question
"Would you be more or less likely to support for president a candidate who is Jewish?" among Hispanic, black, and white Republican survey respondents:
Hispanics
Blacks
White Republicans
That's a less likely-to-more likely breakdown of 70.6%-29.4% for Hispanics, 70.8%-29.2% for blacks, and 60.0%-40.0% for white Republicans. This in spite of the fact that white Republicans are almost certainly more likely to be cognizant of the fact that Bernie Sanders--a man they'd never vote for--is Jewish than blacks or Hispanics are.
When it comes to the fracturing of the Coalition of the Fringes, it's more a question of when than of if.
- Finally, AE is now active on twitter, so
engage me there
as well if you're so inclined.
(Post title
courtesy of John Derbyshire
)