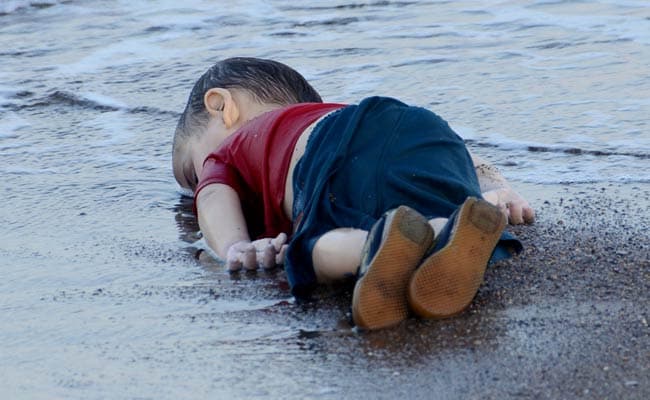 A lot to unpack in a picture:
- A few months ago,
NPR interviewed an Egyptian boat owner
whose vessel was being used in the Mediterranean edition of
The Camp of the Saints
. It was noted in passing that around 10%-15% of those making the trip across the sea are dying in the process. This was back in June, but even without taking the most recent summer months of July and August into account, it was estimated that nearly 2,000 people had already died at sea in 2015. In the
putative words
of Stalin, "the death of one man is a tragedy; the death of millions is a statistic".
- Most directly, this boy is a victim of his parents' recklessness, or more clinically, their high time preference. Your sister wires you thousands of dollars, you board an unstable raft in the choppy waters of the old Roman lake, and you
don't procure lifejackets for your two young children
? And then they drown and you don't? I'm expending every bit of oxygen in my lungs trying to find my boys underwater. If that means dying along with my family, so be it. Were you planning on living forever?
MG suggests
the future time orientation that characterizes the global north but is in short supply in the global south, and the desire for the fruits of that future time orientation in the north is a primary driver of migration from the south.
- More indirectly, this boy is a victim of the "Arab Spring". His family fled a Syrian city where fierce fighting is taking place between the Islamic State and Kurdish forces. If Saddam Hussein were in power in Iraq, Mubarak in Egypt, Qaddafi in Libya, and Assad wasn't hanging by a thread in Syria, something like the Islamic State could never have come into existence.
Italy and Libya had the drain plugged
until the US helped pull it.
- The
Nietzschean observation
that this image will create more suffering through the compassion it elicits than it can ever be hoped to possibly alleviate is unavoidable. As the father of a boy who is about to turn two, it sends a wave of sadness over me every time I look at it. It instantaneously prompted strong emotional reactions to a phenomenon with no universally satisfying outcome. When this emotive process is in the driver's seat,
rational responses to the problem
tend to get thrown into the back and told to keep quiet.
- Relatedly, the concept of
Dunbar's number
is an important one to be aware of. Humans have the capacity to maintain meaningful relationships with around 150 people at a time. We don't have the evolutionary hardware to effectively deal with a massive problem that is framed this way--in the form of a sad photo--at a gut level. We need to
put the green eyeshades on
.
- Our
WEIRDO
instinct is to want to somehow calm the sea in response to what we see here. But as our extensive meddling in the Middle East and North Africa has shown, we're even less effective at doing this than king Cnut was.
The best we are capable of is steadying our ships so that we are able to weather the storm when the waves come crashing against us. And once we're on dry land, we can be lighthouses--not lifeboats--for the rest of the world.