Donald Trump on his favorite bible verse
:
This should have been an expected "gotcha" question given that he previously asserted that the bible is his favorite book. Anytime someone is queried about something that requires rote memorization to provide an invulnerable answer, the chance for stumbling is high. I've read the entire bible and I can confidently quote three passages verbatim, chapter and verse*.
Functionally atheist and intellectually
agnostic, but no skimmer
There are plenty of people who self-identify as some iteration of Christian who have no idea that Jesus--that's what the Bible is all about, right?--doesn't make an appearance until well over halfway through the thing!
A much better question would have been something along the lines of "What is your favorite message from the bible?"
That said, Trump's response was poor. If his working formula regarding all biblical questions is to be strictly non-committal, it's a politically predictable but uncharacteristically Trumpian approach. You don't single-handedly dissipate the cloud of political correctness that is suffocating the Western world by evasion and prevarication!
The first part about spirituality being personal, etc was good but the follow up regarding Old vs New testaments had an obvious answer--if Christian, you very obviously answer "the New". It's a no-brainer.
Unless you're trying to have some fun with it, that is. If I were Trump, I would've said "I know I'm supposed to say the New testament, but part of me that really likes the Old. There are some people who need to be turned into pillars of salt." That would've really caused a tizzy fit in bathhouses across the country!
Granting that the first answer was serviceable, there are lots of ways Trump could have taken the initial question that would've been more characteristically Trumpian; that is, entertaining and frame-setting.
Here are a few that come to mind immediately, formatted as: Verse text; Trump's explanation to the inevitable "why?" follow up; Why the response works.
-
Jesus wept
; "It gets right to the point, just like me"; It's the shortest verse in the bible.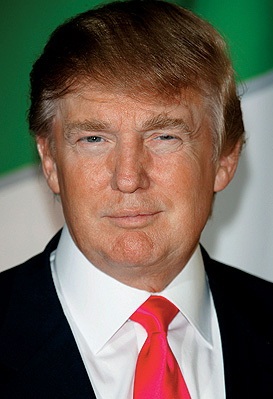 -
Pride comes before the fall
; "Despite what you might think, I'm actually a humble guy"; Delivered for full effect with that billion dollar shitgrin.
-
One who puts his armor on should not boast like one who takes it off
; "What I say I'm going to do is much less important than what I'm actually going to do"; Similar to above, but tapping a metaphorical verse that is less well known and thus insinuates more gravitas while still allowing Trump to create the masterful ambiguity inherent in talking about humility in a cocksure way.
-
Let me die with the Philistines
; "I'm more of a force than the rest of the entire Republican party is. If the GOP doesn't treat me fairly, I'll take the whole stinking party down with me";
In the words of Pat Buchanan
, "The Republican establishment will understand that".
Perhaps Trump has never read a single passage, but even in a post-Christian, classicly-averse Western world, it's hard to believe a guy pushing seventy--
who speaks extemporaneously as a matter of practice
--can't even manage to paraphrase a line or two. Another possibility, purely speculative, is that his response might be more calculated than he's getting credit for. By appearing to be biblically illiterate, genuinely or disingenuously, he is signalling to a large swath of the population that he is no Bible-thumping theocrat who is going to govern from a scriptural perspective.
*
Exodus 3:14
(the agnostic-pleasing "I am who I am"), 1 Kings 20:11 (my personal favorite, "One who puts on his armor should not boast like one who takes it off"), and
John 3:16
(because it's by far the most publicly recognizable, "God so loved the world that He gave his only Son...").